Little Monsters Rejoice! Lady Gaga Sets VMA Record With 13 Nominations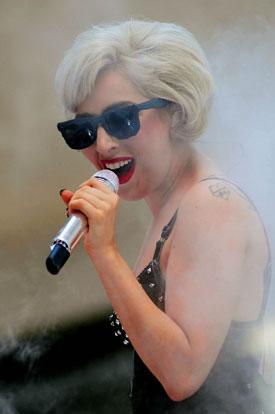 Lady Gaga didn't keep much of a poker face Tuesday, as the singer was elated after capturing 13 MTV Video Music Award nominations, a single-year record in the show's 25-year history.
"I'm so honored for all the little monsters and self-professed freaks of the universe, to have more VMA nominations in a single year than any artist in MTV history," the singer said in a statement, according to People.
Article continues below advertisement
AUDIO: Ryan Seacrest Surprises Ke$ha With News She's Nominated For 3 VMA Awards
"Ironically, I'm even more proud it's an unlucky number: 13," she said. "A long time ago the world told me and my little monsters we would never be heard, together we changed the rules. God put me on Earth for three reasons: To make loud music, gay videos and cause a damn raucous. Thank you, MTV!"
Gaga's hit singles Bad Romance and Telephone are both up for video of the year, among other honors. Bad Romance recently held the distinction of being the most-viewed YouTube video ever, until Justin Bieber's Baby passed it last month with more than 245 million views.
The 2010 Video Music Awards will air live on MTV September 12 at 9/8c.
For more info on the 2010 VMA's, check out MTV's complete list.