Let Mozzarella, Adios Amigos and Donutella Do Your Make-up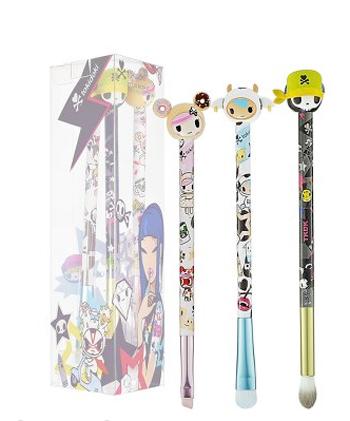 These delightful tokidoki characters are now featured on a trio of eye brushes made by Sephora. Create a great eye look with help from these colorful characters, and brighten up your beauty routine.
This Pittura set contains:
Mozzarella Eyeshadow Brush
Adios Amigos Crease Brush
Donutella Angled Eyeliner Brush
What you need to know:
Mozzarella Eyeshadow Brush is a large, flat-headed, multi-purpose brush perfect for applying light or deep color over your lids, and highlighting your brow bone. Its size allows for quick maneuvering and application.
Article continues below advertisement
Adios Amigos Crease Brush has a precisely tapered tip that fits flawlessly in the contours of your eyes allowing you to fill and blend in your creases, even with your eyes open.
Donutella Angled Eyeliner Brush flows flawlessly along the lashline making it easy to achieve a perfectly straight line. Synthetic brush hair works well with liquid and cream formulations, as well as powder liners—wet or dry. The ultra-soft, antibacterial, luxurious fibers are white with glowing, color-coordinated tips.