LeBron James' Girlfriend: I Don't Like Miami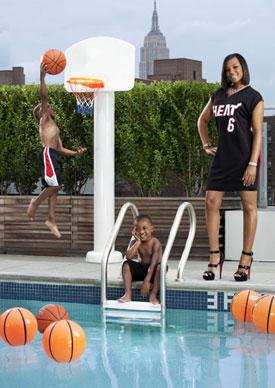 Basketball superstar LeBron James' girlfriend, Savannah Brinson, has admitted that Miami is not exactly her favorite place, RadarOnline.com is reporting.
Brinson tells the September issue of Harper's Bazaar, "Personally, Miami was not my favorite place. Vacationing there is great: You go for three days get some sun, and it's time to go home.
"It will definitely be an adjustment, but we'll make it. We're not complaining. Whatever LeBron felt was comfortable, I'm with him. I just love him so much. We're soul mates."
Article continues below advertisement
And despite the fact that she is dating one of sports most eligible bachelors, Brinson – who is the mother of his two sons LeBron Jr, 5, and Bryce Maximus, 3 – is in no rush to get married to the superstar forward.
EXCLUSIVE: Police Called To Basketball Wives Reunion Special, Cast Member Suzie Ketcham Arrested
She added: "I've definitely not put a fire under his ass. I would never rush him to do something like that. We're really comfortable with the way things are now. And it's not up to me.
"When it happens it happens. We talk about it. If we do it, I want it to be forever."
And LeBron seems to appreciate her laid-back attitude,  and the fact that their 5-year-old son wants to follow in his father's footsteps and become an NBA basketball star.
Natalie Nunn Dating NBA Star Ty Lawson
He told Harper's Bazaar: "A person like myself needs a great sidekick, and a person you can rely on no matter the circumstances. And she's that – she's got my back and I love her for that.
"Well, like any father I would hope that they follow in my footsteps. That would be a great story – and as a father, I would be on cloud nine every day.
"Ultimately, though, only the big man above knows the future. They do have lots of talent though."