Lady Gaga Rages Against Immigration Law During Show In Phoenix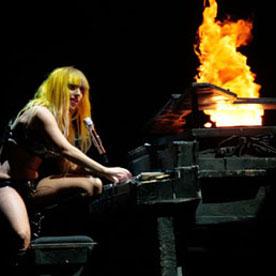 With the words STOP SB 1070 written on her left arm, Lady Gaga used her sold-out show in Phoenix Saturday night to protest Arizona's new immigration law, RadarOnline.com has learned.
Midway through her performance at US Airways Center, Lady G went on a rant against the controversial law that instructs police to check the immigration status of anyone they suspect of being in the country illegally. A Federal judge last week struck down parts of the law, but Arizona has vowed to appeal.
Article continues below advertisement
Lady Gaga isn't waiting for the courts to act. She told her audience, "we have to actively protest" SB 1070.
The singer also dedicated her song You and I to a young boy who told her his brother had been sent back to Mexico. "It's really unfair and it's disgusting," she said.
Lady G revealed that others in the music business had tried to convince her to boycott Arizona as Kanye West and Rage Against the Machine had done.
But she said she believes that rousing up her fans to speak out against the immigration law was a more forceful way for her to protest.