Katy Perry's A 'Teenage Dream' Quick Change Artist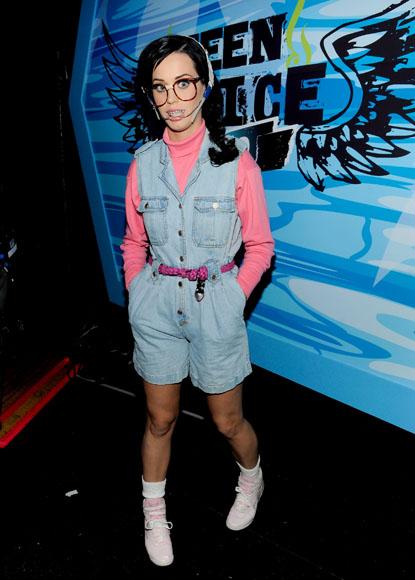 Capitalizing on her hosting abilities, Katy Perry had plenty of time to promote her upcoming album, which includes her latest single Teenage Dream. Using her many wardrobe changes to highlight the coed-inspired single, the sassy singer's costume changes all represented different high school archetypes, including Prom Queen, Nerd, Stoner and Goth.
Wearing a Pepto Bismol pink prom dress with a Prom Queen sash draped across it, the singer joked to co-presenter Chris Colfer from Glee that he "better keep his hands off of her tiara!"
Article continues below advertisement
Later, Perry played the geek, wearing a pink turtleneck under a denim jumpsuit. Cozying up to Glee's Mark Salling despite her nerd-tastic outfit with accompanying metal head gear, Perry slipped Salling's hand into the pockets of her denim jumpsuit.
To end the show Katy got totally goth, wearing all black duds, which included platform boots and a long, black wig, to give a very emo introduction to the cast of Twilight.
What do you think about Katy Perry's "Teenage Dream" inspired Teen Choice Awards costume changes? Check out the gallery and let us know!