Exclusive
Jersey Shore's Ronnie Arrested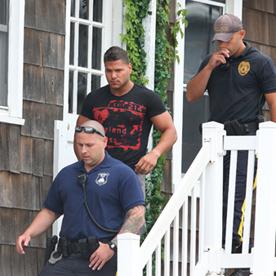 Add Ronnie to the list of Jersey Shore stars who have been arrested. Sammi's ex-bf was picked up by the Seaside Heights Police Department Sunday morning, RadarOnline.com has confirmed.
An unmarked car pulled up to the Jersey Shore cast house Sunday morning and officers took Ronnie into custody without incident and without using handcuffs.
In a statement to RadarOnline.com, the Seaside Heights PD described the arrest of Ronald Ortiz, age 24, of Castle Hill Avenue, Bronx, NY.
Article continues below advertisement
"On August 15, 2010, Ronald Ortiz was placed under arrest for outstanding warrants from two separate jurisdictions. One identified as Union Township of Annandale, NJ. The other identified as Greenwich Township of Stewartsville, NJ. Mr. Ortiz was transported to the Seaside Heights Police Department where he was processed and later released after satisfying the conditions of these warrants."
RadarOnline.com has learned that the issue was unpaid parking tickets.
Ronnie's bust comes just two weeks after Snooki was arrested for disorderly conduct.