It's Your Destiny: CHI DYNASTY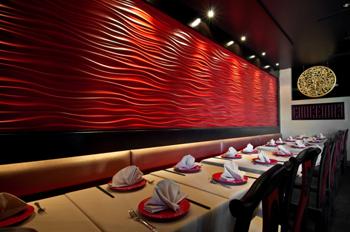 Until last Saturday night, we would lament that the last time we had a great Chinese meal was in New York's China Town. We won't have to go as far next time, since CHI DYNASTY opened in Studio City, California.
The first thing you'll notice is the beautiful décor, soaked in brilliant Chinese reds. When the sun goes down and the lights come up, you really get to experience the ambience which is relaxed, and luxurious.
Article continues below advertisement
And the food matches the surroundings. Try the Chinese chicken Salad, which notes of ginger. It's the best in L.A. and that's saying something! Also, make sure to get the spare ribs which are honey-glazed with a smokey bite. All dishes are cooked fresh so be patient. For example, the Dim Sum takes 15 minutes but is well worth the wait.
Everything is made with the best ingredients, and the sauces are light and perfectly balanced, Take the Orange chicken which is fresh and tangy, with none of that doughy taste. The only dish we weren't impressed with was the Sautéed Veggies which everyone at the table though were bland. We also all agreed we didn't like the black resin chopsticks which were slippery.
There is a decent House Chardonnay and Cab for only $6, a steal in today's market.
The food is comparable to most Westside Chinese dinner venues, but the food is twice as good. We would go back just for the Tea-soaked Duck alone.
As it's new – just open a week- we expect they'll correct the spotty service. Our server left us with menus; didn't take our drink orders so we can to flag him down 10 minutes later. Give it a couple of weeks and we'll be back.