Heidi Montag Looking For New Surgeon To Reduce G-Cups: 'I Feel Trapped In My Own Body'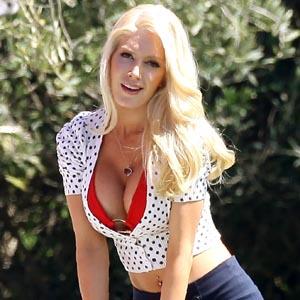 Reality TV star Heidi Montag can't take it: Her breasts are too big.
"I'm desperate to go back to normal," The Hills star told Life & Style about her G-cups. "I'm downgrading and going a little smaller, to a D or a double D."
Montag said that nine months after her breast enlargement surgery, she regrets it for the pain it has caused her both mentally and physically.
"I have major anxiety about it. I was taking painkillers but they weren't working, so I stopped. It hurt either way," she told the magazine. "I'm obsessed with fitness, but it's impossible to work out with these boobs. It's heartbreaking. I can't live an everyday life."
Article continues below advertisement
Montag, whose plastic surgeon and dear friend Dr. Frank Ryan died in an auto accident last week, said she's concerned she won't be able to find a doctor with the magic touch the late Ryan had.
"I feel trapped in my own body. There's just no fixing it," she said. "Dr. Ryan knows the work he did, he knows everything."
Montag said she's currently scouring South America for a doctor to perform the procedure.