Gwyneth Can't Get Enough Of Her...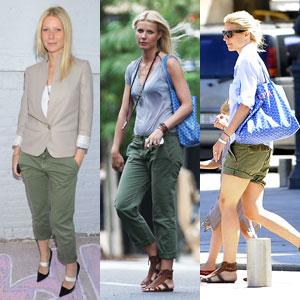 Who says you can't wear the same thing twice? Gwyneth Paltrow has a few style obsessions this summer season and isn't afraid to wear them over and over again. The beautiful blonde actress, who epitomizes effortlessly chic glamour, can't get enough of a certain purse, pair of pants and sandals. Read on for all the details!
Current/Elliott trousers & shorts: Gwyneth has been spotted all over NYC in olive green the Captain trousers and also studded army shorts from the same collection. We love these refined classics, as they can be dressed up or down effortlessly.
Article continues below advertisement
Givenchy Iguana flat zip sandals: The rock and roll wife has been sporting these brown zip-up sandals from French fashion house Givenchy, all summer long. The $450 snaky shoes definitely jazz up her causal duds in attention-grabbing style.
Goyard Tote: The actress loves her timeless sky blue Goyard St. Louis tote, which is monogrammed with her initials.
How does Gwyneth mix and match her favorite designer duds? Check out the gallery in Style and find out.