Exclusive
EXCLUSIVE: Snooki's Ex Worried About Current Boyfriend - 'This Kid Makes Me Sick To My Stomach'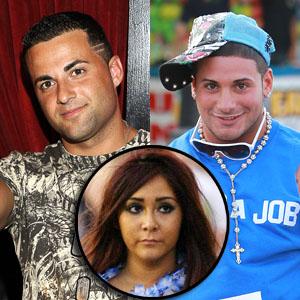 Nicole "Snooki" Polizzi's ex-boyfriend may not be dating the pint-sized star anymore, but he is concerned about her current relationship with Jeff Miranda, and told RadarOnline.com why he thinks she's in a dangerous situation. And not with a roommate named "The Situation."
"How could someone let such a lunatic near my poor Snooki?" Emilio Antonio exclusively told RadarOnline.com.
"They shoulda background checked him. The ex-military people lose their minds."
Article continues below advertisement
Emilio has been outspoken in his criticism of Jeff, but said now that he is fearful of what could happen to her in light of an exclusive RadarOnline.com report that a former girlfriend of Miranda's filed a restraining order against him, accusing him of threatening her with a gun.
"Now I'm scared if he's with Nicole he'll pull a 'Chris Brown'."
Snooki's ex told RadarOnline.com that there are no hard feelings between them and that while he is hoping for the best for her he is worried about her.
"And as much as I'm trying to move on I really do and did care about Nicole and reading what a physcho this kid is makes me sick to my stomach and I fear for her."
Emilio laughed off the news that RadarOnline.com exclusively reported that Jeff proposed to Snooki on the cover of Steppin' Out magazine. "I thought they were broken up. Kid's a joke!"
RELATED STORIES: