EXCLUSIVE INTERVIEW: Snooki's Ex Has A Crush On Her Co-Star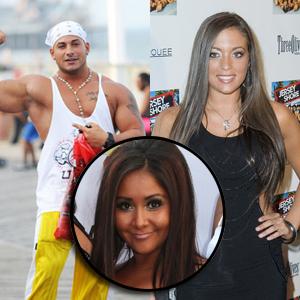 With Snooki in the throes of a new romance, her ex Emilio Masella is looking to move on as well. Emilio spoke to RadarOnline.com about the latest Jersey Shore lady who has caught his eye.
So who is the current object of his attention? Sammi "Sweetheart" Giancola who is currently dating co-star Ronnie Magro.
"When we first met we just hit it off and talked like crazy. Our cousins our really good friends and she lived right near my cousin. We just hit it off," Emilio said, reminiscing.
Article continues below advertisement
On his recent trip to Seaside Heights, New Jersey, when he tried to get back with Snooki, Emilio crossed paths with Sammi multiple times.
"There were about 4 or 5 times when I saw her at the Shore and she was eyeing me," Emilio claims. "She is the prettiest girl on the show and when we saw each other in Seaside she kept eyeing me bad!"
Despite the eye connection, Sammi was always accompanied by Ronnie. But according to Emilio, that didn't stop her from sending out some flirtatious vibes.
"The first time I saw her she was walking out of a club with Ronnie and I asked her if she would get Snooki for me. She smiled at me and started shaking her finger back and forth in a flirty way saying no way, she wouldn't get her," Emilio said. "Another time I saw her I was giving out free hugs and and she was also with Ronnie and she stopped and giggled flirtatiously.
Another time, after he bought Ronnie and Sammi a drink, Emilio says the brunette only had eyes for him: "She just kept staring at me all night."