Exclusive
EXCLUSIVE: Snooki's Boyfriend Proposed To Me First, Says Ex-Fiancé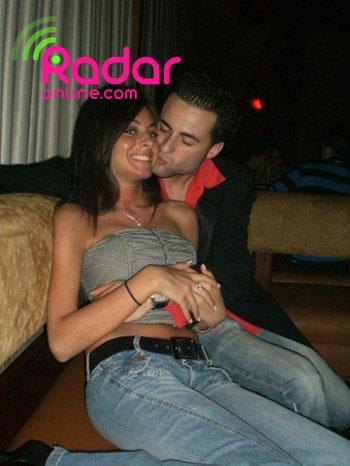 Snooki's new man Jeff Miranda is a serial proposer — at least according to the woman who was previously engaged to him.
As RadarOnline.com reported, Miranda proposes marriage to The Jersey Shore star in the upcoming September issue of Steppin Out Magazine.
Shirtless and sporting some seriously greased biceps, Miranda poses on one knee behind the words "Will You Marry Me?"
It was a surprise to most, considering the couple have only been dating for a few weeks.
Article continues below advertisement
But in an exclusive interview with RadarOnline.com, Miranda's ex-fiance says Miranda pulled the same thing on her — only he didn't do it on a magazine cover.
"We only hung out for about two weeks before he proposed to me," Giana Gerardo told RadarOnline.com exclusively. I had just graduated from High School. He came to meet my parents in a full suit! He's psycho."
The New Jersey native says she met Miranda in the fall of 2006. The pair was hot and heavy for a couple weeks before Gerardo says Miranda popped the question, and then things started to go sour.
"I broke it off with him because he was too controlling and way too possessive," Gerardo told RadarOnline.com. "He always needed to know where I was, who I was with, what I was wearing out."
In his interview with Steppin' Out, Miranda told editor Chaunce Hayden that he wants to marry Snooki because "I love her and I want to be with her."
But Gerardo says she doesn't buy it.
"Jeff says he's 'in love with her' and that he's not in it for the fame, but if that were true, he wouldn't be doing magazine shoots," Gerardo told RadarOnline.com.
Article continues below advertisement
"Jenny J-WOWW and her new boyfriend Roger Williams aren't getting this kind of attention because Roger is a NICE guy who has his own life. You don't see him doing shoots and interviews. It's just sad to see Jeff milk this for everything possible."
As RadarOnline.com reported exclusively, another one of Miranda's ex-girlfriends filed a temporary restraining order against him in 2009 — allegedly for domestic abuse.
He denies her accusations and the TRO was later dismissed.
While Snooki has yet to give Miranda an answer, Gerardo says the pint-sized reality star needs to know what she's getting herself into.
Gerardo tells RadarOnline.com, "I really hope he's changed, for Nicole's sake anyway. She really does seem like she wants love. I'm just not so sure she is going to find it with Jeff."
RELATED STORIES: