Exclusive
EXCLUSIVE PHOTOS: Jersey Shore's Vinny Spotted Making Out With Mystery Lady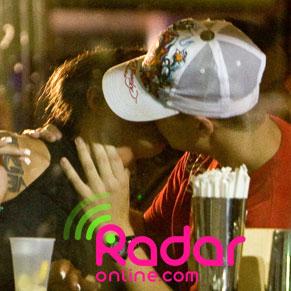 Vinny Guadagnino has found love on the Jersey Shore. Well, at least a little lust.
The Jersey Shore star was spotted making out with a mystery lady in the early morning hours of Wednesday -- and RadarOnline.com has the exclusive photos of their outing.
"Vinny and this very tattooed girl were sitting at Aztek bar together and they were making out," an onlooker said.
"He kept touching her face in a loving way, he seemed really into her."
Article continues below advertisement
Despite the chaos around them, Vinny "couldn't take his eyes off her."
The new couple had some company after their canoodling.
"They left the bar with J-WOWW and her new man and Deena at around 2:00 am and they were all joking around and smoking cigarettes," the onlooker added.
As they walked back to the cast's Seaside Heights digs, "Vinny and the tattooed girl stayed close. He walked with his arm around her down the boardwalk toward the house."
Now maybe the "L" in "GTL" will stand for love instead of laundry.