EXCLUSIVE: New Jersey Housewife Danielle Staub Throws Birthday Party At Strip Club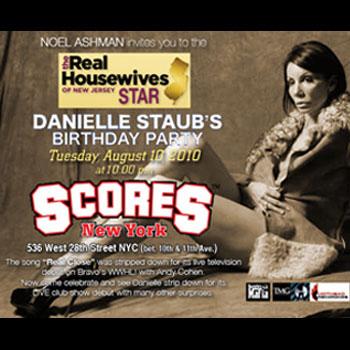 Danielle Staub is celebrating her 48th birthday on Tuesday in a way sure to get her Real Housewives of New Jersey co-stars buzzing: she is hosting a party at Scores strip club.
Danielle's rumored girlfriend and Real Close duet partner Lori Michaels said it's Danielle's big night, so taking a cue from a famous song -- she can do what she wants to.
"It's her party and she'll strip if she wants to," Lori told RadarOnline.com exclusively. "What better place to do this? We're just wondering if she's gonna actually wear her birthday suit for this one! But, hey, it's Danielle and you never know," Lori quipped.
Article continues below advertisement
And is there a theme? "Danielle is always the theme!" she exclaimed. Despite the glitzy fun, don't look for any other Housewives to get the VIP treatment.
"Have you watched the show lately?" she laughed. "I don't think anyone from that show got a personal invite from Danielle for this one."
NYC club guru Noel Ashman organized the party and guests will be in for a special surprise.
"Since Real Close was stripped down for a live television 'tortured lullabye' debut with Andy Cohen on Bravo's Watch What Happens Live, everyone's still talking about it," Lori said. "And then Ryan Seacrest shared it with over 180 Clear Channel radio stations nationwide last week. So, we decided to not only strip down the song but strip down Danielle with a new dance remix of Real Close by Tony Moran and Giuseppe D, which is available on iTunes."