Exclusive
EXCLUSIVE: Khloe Kardashian Storms Out On Hubby Lamar In Jealous Rage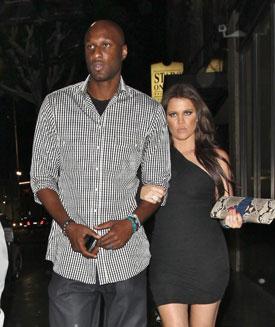 Lamar Odom was flying high after his Team USA basketball win over France Sunday night, but wife Khloe Kardashian put a damper on the evening after storming out of his celebration.
RadarOnline.com has learned exclusively that the attention Lamar gave to other women while out celebrating was more than Khloe could take – eventually causing her to leave solo.
"Women kept stopping by the table to say hi to the guys," an eyewitness at Juliet Supper Club told RadarOnline.com.
Article continues below advertisement
"After only 10 minutes, Khloe's jealousy got the best of her and she stormed out."
The couple headed to the restaurant/club in New York City with an entourage of friends following the game, including fellow baller Kevin Durant and rapper Fabolous.
"I overheard Khloe cursing Lamar out for being 'too friendly,'" the eyewitness said. "But Lamar didn't really seem bothered when she left."
The eyewitness continued, "He ordered two more bottles of liquor and stayed with his buddies for a few more hours before heading out."