Exclusive
EXCLUSIVE: Dina Lohan Breaks Silence, Says "Lindsay Is In Very Good Hands"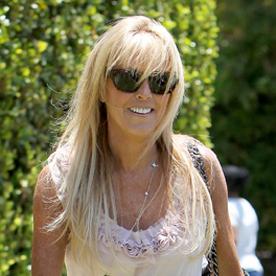 Dina Lohan revealed the first intimate details about her reunion with daughter Lindsay Lohan in an exclusive statement to RadarOnline.com. Dina spoke about what it was like to see Lindsay following the actress' release from prison.
"I was finally able to hug my daughter last night after two long weeks of speaking to her from behind a glass wall," Dina said. "Lindsay is doing well, and is appreciative of the hundreds of well-wishes she has received."
Article continues below advertisement
As RadarOnline.com exclusively reported, Lindsay's rehab plan was abruptly changed on Sunday following a media frenzy involving Morningside Recovery, the Newport Beach facility she was slated to attend. At the eleventh hour, Judge Marsha Revel ordered Lindsay to go to the UCLA Medical Center instead.
EXCLUSIVE: Lindsay Lohan "In Good Spirits" But Exhausted
Following her release at 1:35 AM on Monday morning, Lindsay was driven directly to the hospital under high security. Lohan was transported from the women's correctional facility in Lynwood to UCLA in an unmarked van. Her lawyer Shawn Chapman Holley and a representative from the hospital were also in the vehicle.
EXCLUSIVE VIDEO: Lindsay Lohan Arrives At Rehab Under Police Escort
Amid speculation that Lindsay's family was upset about the change in plans, Dina told RadarOnline.com: "Lindsay is with the utmost professionals and is in very good hands." Dina continued, "I refuse to respond to any of my ex-husband's false allegations about myself or my family."
Sources tell RadarOnline.com that Lindsay is expected to complete her court-ordered 90 days of treatment at UCLA. Lohan will remain on probation for another year after being released from UCLA. She has been prohibited from consuming alcohol or illegal drugs and she will continue to be randomly drug tested.