Exclusive
EXCLUSIVE: Court Bans Actor Edward Furlong From Contact With Wife -- Again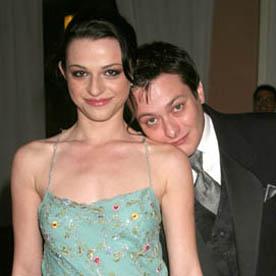 A temporary restraining order has been extended against Terminator 2: Judgment Day star Edward Furlong in his bitter break-up with his wife Rachael Kneeland.
EXCLUSIVE: Hear Edward Furlong's Wife's Call to 911
His ex-lover provided dramatic testimony before a judge at Los Angeles Superior Court on Tuesday, claiming the actor repeatedly drives by her house, once threatened to slit his wrists and has refused to take a drug test when she demanded one over custody of their son Ethan.
Article continues below advertisement
According to Kneeland, she spotted Furlong last Wednesday driving by her home. He later parked across the street with full view of the balcony of her apartment, she said.
Kneeland told the judge her new boyfriend had planned to come over, but she was forced to reschedule their rendezvous because she feared how a lurking Furlong would react.
"I was shaking with fear when I saw his car," Kneeland said, in court.
The next day, she filed a police report about the incident.
Kneeland filed for divorce from star in July 2009 after three years of marriage.
But their relationship has become more volatile since the split and Furlong was ordered to stay away from Kneeland last October after she accused him of beating her up following a heated argument.
Earlier this month, Furlong was handed yet another restraining order from Kneeland, banning him from contacting or approaching his ex and their three-year-old after allegedly leaving a series of profanity-laced voicemails on her phone.
Article continues below advertisement
However, a judge modified the order Tuesday, granting Furlong custody of Ethan each Tuesday and Thursday after school -- and either Saturday or Sunday for three hours.
A private mediator will transport the child to and from each parent during these scheduled visits.
The judge ruled today that the existing TRO will remain in effect until September 27 when the two are expected to return to court to address their remaining issues.