ESPN's Jay Mariotti, Arrested For Domestic Abuse, Was One Of Tiger Woods' Biggest Defenders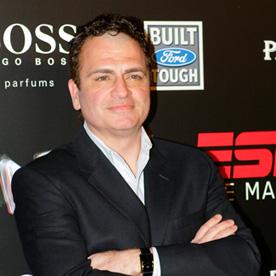 ESPN commentator Jay Mariotti, who was arrested for allegedly attacking his girlfriend in an early morning brawl Saturday, was once Tiger Woods' biggest defender when it was rumored that the golfer had been abusive to his wife Elin.
The popular reporter and commentator, 51, was locked up after he fought with his girlfriend at a Santa Monica nightclub, reports The Los Angeles Times.
EXCLUSIVE: Tiger Woods gives up Orlando Home to Wife in Divorce
Article continues below advertisement
When the argument continued back at his house, an alleged physical attack took place and police were called at 4.30am.
He was booked on a felony charge at 5.45am, and while no further details are currently being released Mariotti's own words could come back to bite him.
On February 19, just hours after the shamed golfer took the microphone to publicly confess his numerous affairs, Mariotti penned a column on 'Fanbase.com' entitled, 'Tiger Woods Bares Soul: Let's Leave Him Alone'.
He staunchly defended Woods for having the 'strength' to tell millions of viewers about his numerous infidelities
And when it came to the accusations that he and his wife, Elin, had a violent marriage he was firmly on Woods' side.
"If you believe Woods, as I do in this case," he wrote, "there was no domestic violence on that night or at any other time in their marriage. For people to just assume that, from late-night comedians to Jasper Parnevik, the pro golfer who introduced Elin to Tiger several years ago, is shameful in and of itself."
Mariotti even calls Woods a "flawed and tortured soul" and begged people to leave him alone.
"It's time we as a society leave him alone, let him heal with his family and return to golf as a better man."
Mariotti - who is also a panelist on the ESPN show 'Around the Horn' - was still being held in lieu $50,000 bail at noon PDT.
"I can confirm that Mr. Mariotti was arrested in the very early hours of this morning," an LAPD spokesperson told Radaronline over the phone. "No further details are being released at this time."