Eat Like a King – Or Queen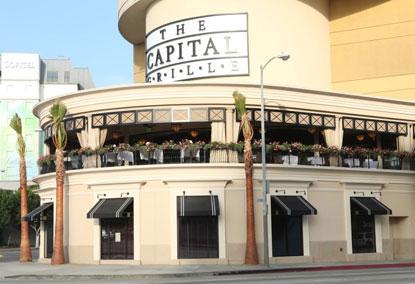 We had a Capital meal the other day, fitting at the new Capital Grille just opened in Los Angeles. (They have a number of restaurants throughout the US.)
It's an old-school steak house, with impeccable service, their own dry- aged steaks (!), and an enviable wine list yet it's not stuffy. Think dark paneling, plush booths and subdued lightening.
We had the Delmonico ($43) while our friend had the Porterhouse ($47) which were perfectly cooked.
Article continues below advertisement
Not only do they have a butcher on the premise, but also their own dry aged facility, where they age their steaks 14 to 21 days (depending on the cut.)
No wonder the meat is so good.
The seafood is also scrupulously fresh.
A very East coast touch is the wine storage areas just as you walk in. Regular patrons can rent them yearly and keep their special bottles of wine at the restaurant. Classy.
Upstairs is lovely open patio space, which curves around the bar. Unlike the East coast vibe downstairs, this is pure L.A. We expect to be there for many swanky parties.
L.A. desperately needed a Capital Grill, a luxurious, special-occasion restaurant with an emphasis on service