Drew Barrymore's Going The Distance Style Streak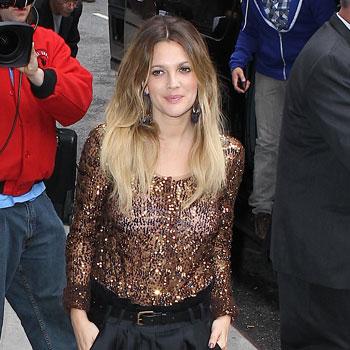 Drew Barrymore has been a busy girl over the past few weeks, doing press for her latest flick Going the Distance in totally smashing fashion. Recycling a few key items over and over again, the laid back leading lady has managed to make a red carpet statement. What is the blonde beauty going crazy over? Read on to find out!
Drew has been delving into a few key trends: metallic, military and flashy color. At the London premiere of Going the Distance, Drew rocked an army-inspired McQ by Alexander McQueen dress, which she totally jazzed up with a statement Balmain metal belt and nude suede Yves Saint Laurent Trib Two heels. She went on to wear the exact same belt with the same shoes (in grey this time) with her Catherine Malandrino gold brocade gown to the Los Angeles premiere.
Article continues below advertisement
For Late Night with David Letterman she paired a copped Richard Chai sequin top with Camilla and Marc high-waisted and pleated pants, recycling her grey Trib Two's. She wore her new favorite heels, AGAIN, to the Daily Show on Wednesday with a bright purple leather skirt and an army-inspired top, which wasn't our favorite of her edgy ensembles.
What else has Drew been coveting? Catherine Malandrino tribal-inspired colorful jewels as well as bracelets and rings by Samantha Willis, which she has been wearing almost everywhere she goes.
See Drew's many looks by checking out the gallery in Style.