Dean McDermott Says He And Tori Will Have More Kids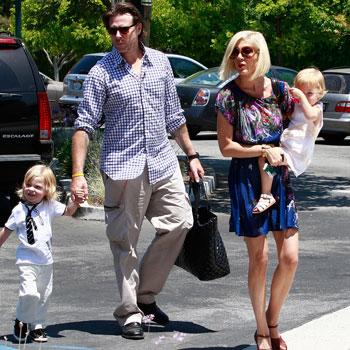 Tori Spelling's husband Dean McDermott revealed on Tuesday that the Hollywood reality couple is planning on expanding their family and having more children.
When asked during an interview on Fox's Good Day L.A. morning show if they were going to have more kids, Dean smiled and said, "Yeah, yeah."
Showing adorable family pictures of his children, daughter Stella, 2, and son Liam, 3, and clips from their reality show Tori & Dean: Home Sweet Hollywood, Dean spoke about Tori's previously estranged relationship with her mother, Candy Spelling.
Article continues below advertisement
"They've been working on their relationship since before my accident, it continues but I don't think my accident brought them closer together."
Dean has recovered from the dirt bike accident that landed him in the hospital with a collapsed lung in June, and now the reality star will be getting back on a two wheels - just not a dirt bike! – when he appears as the Grand Marshall of the third annual Ride For Autism event on Saturday, August 7 in Los Angeles.
McDermott went on to talk about his accident and his immediate thoughts after hitting the ground. "When I hit and I couldn't get air in or out, all I could think of was my kids," he revealed.
Wife Tori has laid down the law for Dean since the accident. "I promised her I wouldn't dirt bike anymore," he said on the show.