Daughter Of Ex-NY Mayor Rudy Giuliani Accused Of Shoplifting At Sephora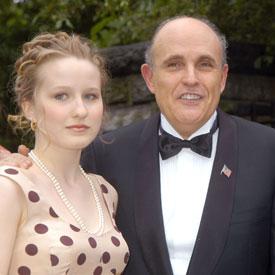 The college-age daughter of ex-New York Mayor Rudy Giuliani was taken into custody at a Sephora cosmetics store on New York's Upper East Side Wednesday, accused of shoplifting $100 in makeup, RadarOnline.com has learned.
Caroline Giuliani, a 20-year-old Harvard student, had five items that cost a total of $100 in her purse at the time of her arrest, police said, adding that she also had $300 in cash on her, as well. Sources told NBC that the alleged theft inside the store was videotaped.
Article continues below advertisement
EXCLUSIVE VIDEO: Tiger's Mistress Jaimee Grubbs Talks About Her Shoplifting Conviction
Sephora issued a statement Wednesday that said its their "policy not to comment on matters that are under police investigation," while the office of Manhattan District Attorney Cyrus Vance Jr. said that "once we review the case, we will decide whether or not to file a criminal complaint."
Giuliani, one of two children the politician has with his ex-wife Donna Hanover, was given a a desk appearance ticket and ordered to return August 31 in connection with the incident.