Exclusive
BREAKING NEWS: Heidi Montag's Plastic Surgeon Frank Ryan Dies In Car Crash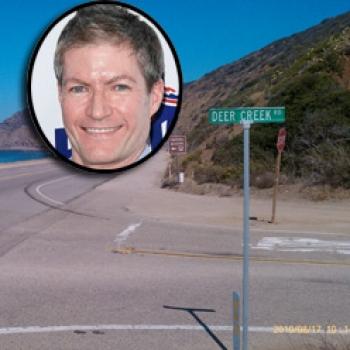 Dr. Frank Ryan, a Beverly Hills plastic surgeon who came into the limelight after performing ten surgeries on reality TV star Heidi Montag in one day last November, died at the age of 50 after a car crash Monday in Southern California, RadarOnline.com has learned.
Dr. Ryan's Jeep tipped over the side of Pacific Coast Highway at Deer Creek Road in Ventura County around 4:30 pm, according to police. A passerby called 911. Excavation efforts failed, and the doctor was pronounced dead at the scene of the accident. An autopsy is expected to be performed Tuesday to determine the exact cause of death.
Article continues below advertisement
Police say Ryan's dog was in the car with him, and that the dog survived and was taken to a local veterinary hospital for treatment.
Shortly before his death, Frank Tweeted a picture of his dog at the beach.
DOCUMENT: Read The Police News Release On The Accident
A family spokesman at Dr. Ryan's Pony Bony ranch told RadarOnline.com Tuesday: "Frank's mother is very upset we are asking people to keep their distance right now and his lawyer will be releasing a statement later today."
Just prior to his death, Dr. Ryan sent out a pair of Tweets: "After 25 years of driving by, I finally hiked to the top of the giant sand dune on the pch west of Malibu. Much harder than it looks! Whew! ... Border collie jill surveying the view from atop the sand dune."
EXCLUSIVE VIDEO INTERVIEW: Heidi Montag's Plastic Surgeon Says She's A Hero
Dr. Ryan had graduated from the University of Michigan in 1982, and then from Ohio State University College of Medicine in 1986. He perfected his craft with eight years of post-graduate surgical training at Cedars-Sinai Medical Center, the University of Missouri and UCLA Medical Center.
Article continues below advertisement
Ryan came into the limelight this January after it was revealed he'd performed ten plastic surgery procedures in one single day back in November on The Hills star: a mini brow lift, Botox in her brow and frown line area, a nose job revision, fat injections in her cheeks, nasolabial folds and lips, a chin reduction, neck liposuction, had her ears pinned back, a breast augmentation revision, liposuction on her waist, hips, inner and outer thighs, and a buttock augmentation.
Early Tuesday, friends such as model Caitlyn O'Connor took to Twitter to mourn the skilled surgeon.
"Oh my! Friend and plastic surgeon Dr Frank Ryan died yesterday in a terrible car crash. I was supposed to see him Thursday morning," she Tweeted.
Playboy Playmate Devin DeVasquez Tweeted she was "extremely sadden by the death of Dr. Frank Ryan, a famous Beverly Hills plastic surgeon who was a dear friend."