BOOKS: If You Liked Boogie Nights and Wonderland...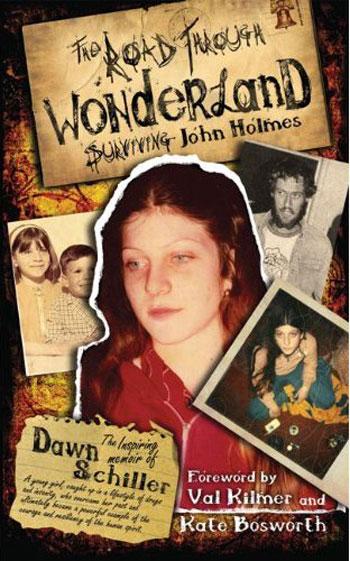 He's been dead more than twenty years, but the story of troubled porn legend John Holmes continues to intrigue the masses in a big way, for better or for worse.
Now, continuing in the tradition of films such as Boogie Nights and Wonderland, comes The Road Through Wonderland: Surviving John Holmes, a chilling book from Dawn Schiller, Holmes' pixyish teen companion (played by Kate Bosworth in Wonderland) who he took down a road of drug addiction, abuse, arrests, forced prostitution, disease and murder.
Article continues below advertisement
Reviews for the highly-anticipated book have been pouring in from all spectrums, and readers seemed to be fascinatingly disturbed by the long and winding road Schiller traveled through Wonderland.
"Dawn Schiller's chilling account of her youth as the underage mistress of... Holmes is infused with the goodness and humanity that ultimately delivered her from her abusive ordeals," Esquire's Mike Sager wrote. "A classic story of an innocent young woman's descent and self-redemption, The Road Through Wonderland is gritty and starkly honest; it is at once a horror tale and a story of triumph."
New York Times correspondent Dana Kennedy said, "There is not much separation between writer and reader. Schiller draws an unforgettable portrait of a lost, drug-addled corner of late 1970s Los Angeles and what it was like to be a lonely girl targeted by a predator in that world... one long, chilling money shot."
Experts such as Mitru Ciarlante, the youth initiative director for the National Center for Victims of Crime, lauded the book as a cautionary tale that'll, hopefully, heighten awareness toward the exploitation of children.
Article continues below advertisement
"Dawn Schiller manages to write so beautifully about something so shatteringly repulsive," Ciarlante said. "Her picturesque descriptions demonstrate her ability to somehow connect with the beauty of the natural world while being neglected, exploited, and abused by the human world.
"The thing to take away from The Road Through Wonderland," Ciarlante said, "is not that it is a bizarre or extreme story, but that it is a girl's true story and gives us a rare and haunting look into what surviving takes."