Best And Worst Of The Summertime Blues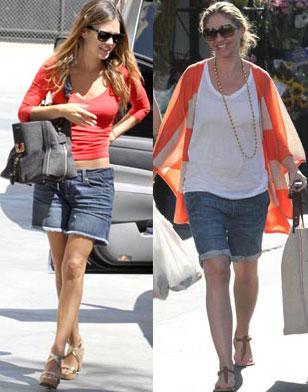 Stars were feeling the blues on Thursday afternoon, stepping out across the globe in the best and worst of the classic color. Rachel Bilson showed off her taut tummy in Los Angeles, pairing a super tight red top with baggy denim shorts and finishing the look off with metallic wedge sandals. Rebecca Gayheart also tried out the baggy short trend, but wasn't as fortunate when it came to body-flattering fit, resulting in an awkward look for the former Neutrogena girl.
Article continues below advertisement
Sharon Stone dove into a super chic, multi-blue hued shift dress, which she jazzed up with a turquoise necklace. Jessica Alba also used the cool color in the form of a scarf, which added some pizzazz to her jeans and t-shirt.
Katy Perry and Lily Allen were definitely thinking pink. The Teenage Dream even went to the extent of matching her tresses to her dresses!
What rehabbed starlet showed off a brand new blue manicure in Los Angeles? Check out the gallery in Style and find out.