The Best And Worst Fashions Of The Weekend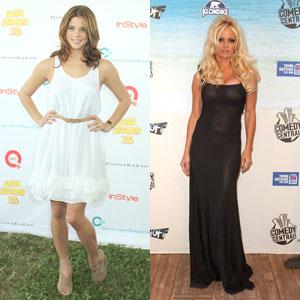 It was a busy weekend for our famous friends, who stepped out in the best and worst summer threads. While Ashley Greene was in absolute Twilight sight at the 13th Annual Super Saturday Event in Watermill New York, dressed in angelic attire, Pamela Anderson showed a little too much skin at David Hasselhoff's Comedy Central Roast in Los Angeles.
The Eclipse star was perfectly put together at the QVC sponsored Ovarian Cancer Research Fund event, wearing a PureDKNY mini with nude heels. We loved this look on Ash, because it was simple, yet sophisticated and totally perfect for a summer charity event!
Article continues below advertisement
Not appropriately attired for her event was the ex-Baywatch babe, who showed up to support her former costar looking worse for wear in body-baring getup. Pam decided to wear a totally see-through black dress on the red carpet, which perfectly showed off all of her undergarments..as well the lack there of.
Real men don't wear pink, but Scott Disick did to the Super Saturday event, where supermodel Hilary Rhoda looked beautiful in a blue maxi dress. Chelsea Clinton walked down the aisle in First Daughter style, wearing a breathtaking Vera Wang gown. Congrats on the nuptials, Chelsea! Liv Tyler looked rock and roll in plaid, while her Aerosmith frontman dad had a fashion flop in zebra print slacks.
Who else rocked and shocked over the weekend? Check out the gallery in Style and find out.