AUDIO: Audrina Patridge Talks Dancing With The Stars, Heidi Montag Sex Tape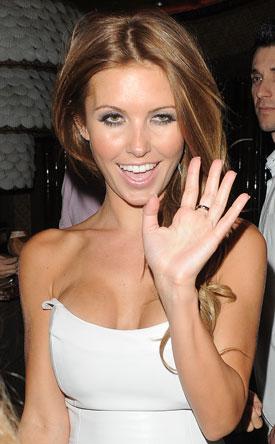 Reality TV stunner Audrina Patridge talked about gearing up for the upcoming season of Dancing With The Stars and shared her opinion on if a sex tape exists featuring Heidi Montag on Ryan Seacrest's KIIS-FM morning show Tuesday.
Hear the clip on RadarOnline.com
Patridge, who was announced as a celebrity dancer on the ABC hit Monday, said her previous dancing experience is limited to nights out with her friends and some ballet lessons she took as a kid.
Article continues below advertisement
AUDIO: Audrina Patridge Talks Dancing; Makes Snide Remark Re: Heidi Sex Tape
"Its so much fun, its a lot of work, ballroom dancing everything," she said, noting she began practicing with her unnamed partner Sunday. "There's a lot that goes into it."
Seacrest also put the 25-year-old beauty on the spot, asking her about rumors she's dating hunky Russian dancer Maksim Chmerkovskiy.
"What?!? Oh my God! Oh my God!" she said, laughing. "Its just the beginning and there's rumors already!"
And then it got a little dirty, as Seacrest asked her if she could confirm the rumor there's a sex tape featuring Montag.
She responded, "Gosh, I mean possibly ... I wouldn't put it past them."
Patridge will compete on Dancing With The Stars against other celebs such as Jersey Shore's Mike "The Situation" Sorrentino, 90s singer Michael Bolton, Brady Bunch mom Florence Henderson, Dirty Dancing star Jennifer Grey, embattled actor David Hasselhoff, ex-Los Angeles Laker Rick Fox and former NFL quarterback Kurt Warner, among others.
Dancing With The Stars' eleventh season premieres September 20 on ABC.