You Are Here: Some History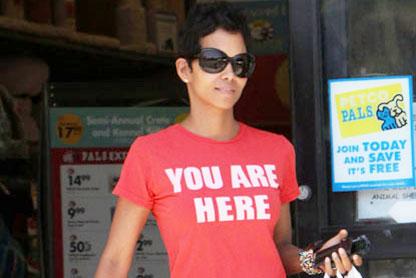 Most everyone saw Halle Berry rocking her red "You Are Here" tee shirt last week so we tracked down where to buy one for our readers!
What we didn't know is that John Lennon made this tee-shirt famous in 1971 when he wore it to a benefit gig for families of inmates killed in the infamous Attica prison uprising.
The slogan encapsulated his existential philosophy, as he summed up for the UK Melody Maker:
Article continues below advertisement
"All the Bibles, Jesuses, gurus, poets and artists have ever said to people is that this minute is the one that counts; not tomorrow or yesterday.
"That's the whole game. There's no other time but the present. Anything else is a waste of time.'
Check out Worn Free where you can pick up the iconic tee up for $45.
And live your life in the present.