Who Rocked It Harder: Rihanna vs Jennifer Lopez In Lanvin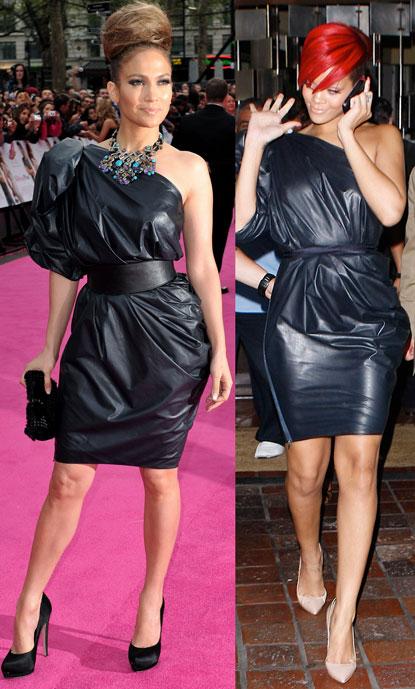 It is a war of the divas when two of the biggest Hollywood bombshells step out in exactly the same frock! Rihanna hit the town on Monday night in Los Angeles looking tres glam in the identical drapy, matte black, one-shouldered Lanvin Spring 2010 frock that Jennifer Lopez wore to the London premiere of The Back-Up Plan a few months ago.
When Jennifer Lopez strut her stuff down the red carpet of her UK movie premiere in April, all heads were turning. Only the most delightful of divas could pair a high-tech constructed asymmetrical dress with a statement turquoise necklace, a fancy beehive and a thick black belt and actually get away with it!
Article continues below advertisement
While Jen saved the uber expensive designer dress for a big event, it was just another night-on-the-town rag for Rihanna. The red-headed singer dined at Ago in Los Angeles, wearing it with nude heels and a slender belt.
Though both ladies are equally gorgeous, only one of them rocked Lanvin to perfection. Who was it? Check out the gallery in Style to find out.