Who Rocked It Harder: Nicole Richie vs Ashley Tisdale In Winter Kate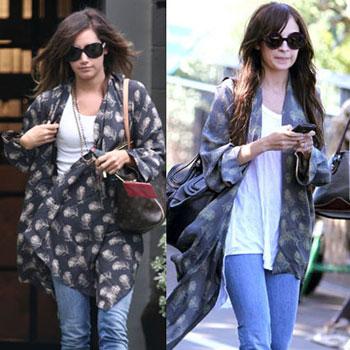 Nicole Richie's Winter Kate collection is tres BohoChic, so we are not surprised that we have been spotting celebs left and right sporting her duds. The most recent starlet to step out wearing one of the mom a la modes designs, is High School Musical star Ashley Tisdale, and the brunette babe happened to be rocking almost the same look, from head-to-toe, as Nicole herself did late last year.
Ashley looked super chic in the Winter Kate Jasmine Cardigan ($225), wearing the fab feathered item with a white tank, skinny jeans and snaky Loeffler Randall boots. For a day of errands, the young beauty definitely scored a style hit.
Article continues below advertisement
Nicole wore the crafty cardigan with a loose fitting, white top, flared leg jeans and black, grommeted kicks late last year, while on a shopping expedition with her pals.
Who rocked it harder? Check out the gallery in Style and let us know what you think!