Exclusive
VIDEO: Michael Lohan Drops F-Bomb On Fox News; Shepard Smith Says "It's All So Damn Weird"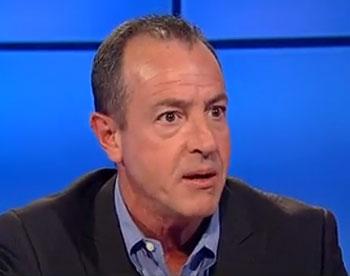 If Michael Lohan needs an opponent for his next Celebrity Boxing match, he needn't look any farther than Fox News anchor Shepard Smith.
The 50-year-old father of troubled screen star Lindsay Lohan and the Fox anchor sparred on Smith's Studio B show Thursday in discussing Lindsay's well-publicized problems, and Michael's handling of the situation.
EXCLUSIVE VIDEO & PHOTOS: Lindsay Emerges From Hiding - To Shop
Article continues below advertisement
"I don't think a lot of parents understand, sir, the way you conduct yourself -- you understand why I mention it. Yesterday, after a whole day-long ordeal, you rush over to Larry King Live to talk, and then these pictures after the sentencing of the night before," Smith told Lohan, flashing to a picture of Michael smiling at a dinner table in the hours following his daughter's dark day in court.
"It's all do damn weird, I don't know how to process it all," Smith said. "If you had done half this much to help your daughter ..."
Watch the clip on RadarOnline.com (WARNING: Video contains offensive language)
"Give me a break," Michael said. "All of my effort is spent on trying to help my daughter, flying all over, back and forth, following her, calling narcotics agencies, meeting with the DEA, meeting with people. And I go out for five minutes to get some food, and I spend 'half as much time helping my daughter' as I do that? Give me a break!"
Article continues below advertisement
When Smith asked Lohan what its like to be followed around by photographers all the time, Michael responded, "It sucks, and I wish they'd leave me alone."
Still heated from the inquisition over the picture, Michael told Smith: "That's my kid, don't tell me how much time I spend helping my daughter, or going out to eat dinner. Or how much time I spend in the expletive gym."
When asked where his daughter's problems are leading to, Michael responded that "it could end in death."
"If it was your kid what would you do?" Michael said. "If you don't know, and you're not in my shoes, you have no place saying what I should do."
EXCLUSIVE VIDEO INTERVIEW: Michael Lohan Says "Drugs Are Killing My Daughter"
As RadarOnline.com previously reported, on Tuesday, Lindsay was sentenced to 90 days behind bars for a series of parole violations in connection with her 2007 conviction, and will be permitted to surrender herself into custody July 20. Experts predict she will only have to serve a fraction of the sentence, however.