TREND RADAR: Vanessa Hudgens' Heart-Shaped Shades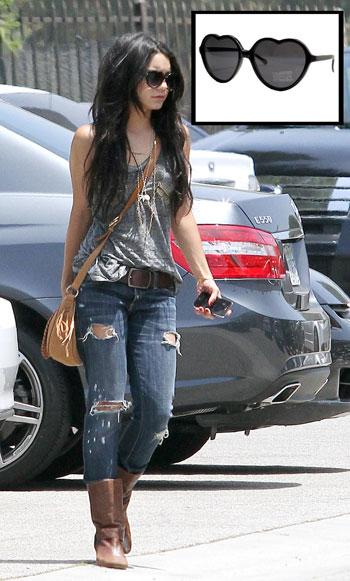 Vanessa Hudgens is one of our favorite Young Hollywood fashionistas because we love her effortless bohochic style. We spotted the SoCal gal out and
about in Los Angeles this week sporting some rather eccentric heart-shaped eyewear, and we had to find out the details. We assumed that her stylish shades cost an arm and a leg, but were delighted to find out that they were actually less than $20!
Vanessa's adorable plastic sunglasses are from the Blu Moon collection, and can be purchased at Planet Blue stores in Los Angeles or at shopplanetblue.com for $18. Though the Disney darling rocked them in black, they are also available in Lavender and Dark Purple. Sold out at the moment, be sure to get on the waiting list, so you can be the first in line.
Article continues below advertisement
Juicy Couture Heart-Shaped Sunglasses
We love these shades because they add a flair of summer fashion to any outfit, for a fraction of the price of most designer shades.
Did Vanessa get the palm of her hand tattooed? Check out the gallery in style to find out what other trend the High School Musical star sported during her day of errands!