Tori Spelling's Hubby On The Mend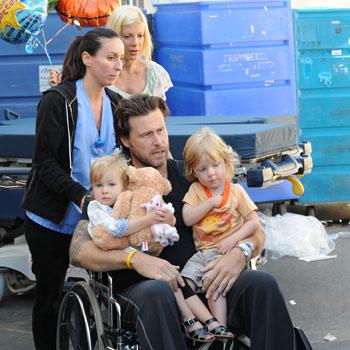 After a dirt bike accident that left him in the ICU with a punctured lung, reality star Dean McDermott is finally at home and taking to Twitter about getting back on his feet—literally!
"Loving being home and hanging with my Fam. Took my first walk today, Oy!!! It hurt. Gotta do it though. Baby steps right??" he tweeted Wednesday.
Tori Spelling and her husband Dean star in Oxygen's reality show Tori & Dean: Home Sweet Hollywood with their young children Liam, 3, and Stella, 2.
Article continues below advertisement
He jokingly made it clear that he'll be getting back in tip top shape in the comfort of his own home.
"I'm not GOING to rehab, I'm REHABBING my crash injuries. I'm doing it at home with exercise and card.
"Ha Ha! I meant Cardio," he wrote.
But, Dean's got to heal first.
"I just want to wait for the swelling on my right side to go down. The swelling is so bad! I'm mis-shaped. I'm a pear!!"
A self-professed fan of cherry, pecan, banana cream, chocolate cream, and lemon meringue pies, Dean admits he's doing well enough to scarf down a few of the Marie Callender's delights!
"We ate three quarters of the cherry pie T bought laying in my hospital bed watching Food Network. It was a perfect night."
He definitely will need to do that cardio, if he keeps this up!