Spencer Pratt Begs MTV To Take Him Back "Once These Shore Boys Are Done"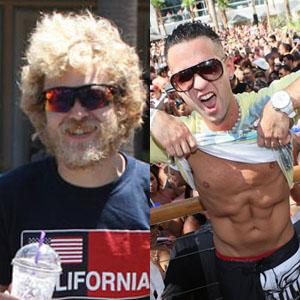 On the heels of wife Heidi Montag filing for divorce, Spencer Pratt is begging MTV to put him back on TV, RadarOnline.com has learned.
Although he comes across as mad as a hatter in his Twitter rants Saturday, Pratt does seem to know his place in the reality TV pecking order. He pleads with the network to put him back in a show once they tire of the Jersey Shore.
"I just want to be a reality superstar @MTV once these Shores boys are done," Pratt Tweeted. " I am on the bench coach ready to make ratings PLAYBOY SPENCE BACK".
Article continues below advertisement
The former Hills star followed his plea to MTV with a confession that he doesn't know how to live off camera and without directors and producers. He wrote, "I miss the sound stage. @mtv I need my script back. Don't know how to live without producers guiding my storyline. I am lost without @mtv !"
Heidi's following through on her threatened divorce filing seems to be what set Pratt off. He wrote that the marriage had always been "fake."
COURT DOCUMENTS: Read Heidi Montag's Petition For Divorce
"I got served with divorce papers?," Pratt posted on his Twitter page. " I thought that preacher at the wedding was one of the actors like my paid friends and family & exWIFE".
And..."This whole time I have really been married? I thought we did that for ratings?"
Self proclaimed "King Spencer" continued on to tell MTV and the rest of the Twitterverse "Heidi left me seasons ago! Hello! she just didn't have beefy LC to film with anymore so she had to be stuck with King Spencer! sucker."
But King Spencer, as Pratt likes to call himself, doesn't have Paul D's hair or The Situation's abs. Good luck getting that new show!