Rod Blagojevich's Fate Rests In Jury's Hands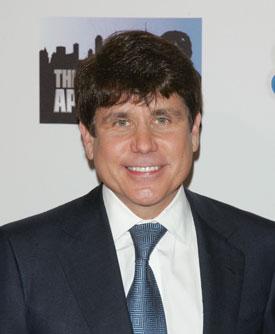 A jury is now deliberating the fate of disgraced former Illinois governor turned reality TV star Rod Blagojevich who's accused of corruption while in office, RadarOnline.com can report.
The trial of Blagojevich -- who's accused of scheming to sell or trade President Barack Obama's U.S. Senate seat after the November 2008 election -- has been ongoing since early June.
Rod Blagojevich Coveted Oprah As Obama's Senatorial Replacement
Article continues below advertisement
The case went to the jury Wednesday. During the trial, Blagojevich never took the stand to testify in his own defense.
"Ultimately, it's in God's hands," Blagojevich -- accused of political corruption with 24 charges of ranging from racketeering conspiracy to wire fraud to attempted extortion -- told the Chicago Tribune upon his departure from Dirksen U.S. Courthouse Wednesday.
Since his political career reached an impasse in light of the accusations, the charismatic politician has appeared on NBC's Celebrity Apprentice.
MORE ON:
I'm a Celebrity Get Me Out Of Here
He wanted to be on 2009's cycle of I'm A Celebrity ... Get Me Out Of Here, but a judge wouldn't allow him to travel to Costa Rica to tape the show. His wife Patti appeared in his place.