Rihanna Rocks L.A.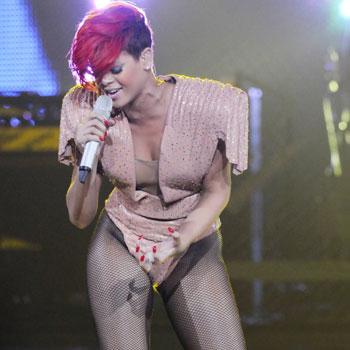 The streets of downtown Los Angeles were filled with the music from the original good girl gone bad, Rihanna. Her first headlining tour in North America has been a major comeback for the young superstar. With a new look, Rihanna rocked the Staple Center like a true rock star until 11:30PM Wednesday evening.
Gym Class Heroes former front man Travis McCoy along with chart toping artist Ke$ha opened for the red headed bombshell. The high energy performances radiated through the walls of the nearly sold-out stadium as fans threw their hands in the air and pulled out their best moves.
Article continues below advertisement
At 9:30 PM Rihanna graced the stage in a black gown that lit the stage in a red glow. The diva had seven different risqué costume changes throughout her time on stage. Songs off her latest album were featured as she danced from one end of the stage to the other with her energetic dancers and guitarists.
Her performance was highlighted with crowd pleasing songs such as "S.O.S.", "Shut up and Drive", "Umbrella", and "Disturbia" which solicited a thunderous applause amongst the amped audience. The show came to a close with surprise special guest, Eminem, to perform their most recent hit duet, "Love The Way You Lie," which wowed the entire venue. One of the most successful female artists of the decade the Grammy winning artist has achieved five number-one singles on the Hot 100 chart with in the 2000s decade. In her two hour block-buster performance, she rocked every hit.
With her amazing voice and star presence, the audience couldn't take their eyes off her all night. Her bad girl attitude was accented with a bit of sweetness as she giggled to the crowd in-between songs.
Rihanna has had a long journey to stardom. She brought enthusiasm and energy only Rihanna can bring to the stage, which kept the crowd at their feet during the entire time. Like all smart performers, she left us wanting more .