PHOTOS: Sandra Bullock And Baby Louis Leave L.A.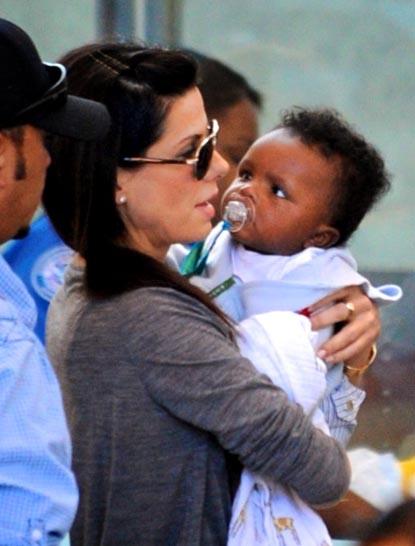 Yup, he's a momma's boy already.
Sandra Bullock was snapped with her adorable child Louis Bardot Bullock at LAX Airport in Los Angeles Wednesday, and RadarOnline.com has the just-released pics for you.
The Oscar-winning star of The Blind Side kept it low-key while cradling her irresistible infant, who stared at her with amazement while nibbling on his pacifier.
The recently-divorced Bullock has kept things close to home for her adopted 6-month-old, recently settling down at her new house in the baby's hometown of New Orleans, Louisiana.
Article continues below advertisement
As RadarOnline.com previously reported, Bullock had been in Los Angeles this week to attend the funeral of producer Rebecca Spikings-Goldsman, the wife of producer Akiva Goldsman, who scripted her 1996 movie A Time to Kill. She died July 6 of a heart attack at 42.