PHOTOS: Lindsay Lohan Gets A Visit From Actor Pal -- & Ernest Hemingway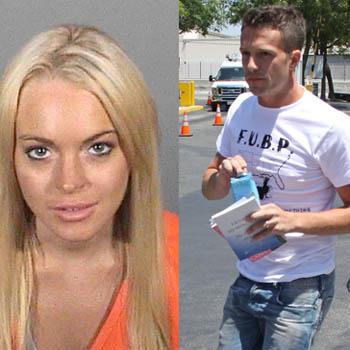 Hemingway has arrived — finally.
After Lindsay Lohan had her copy of Ernest Hemingway's The Old Man & The Sea rejected from entering Lynwood jail last week, the book made a second attempt Wednesday — alongside actor Jason Dottley.
But sadly for LiLo, it's unknown if she will ever get to read the famous writer, while in the slammer.
"She probably will not be able to get The Old Man in the Sea that was left for her," her attorney, Shawn Chapman Holley, said after visiting the actress at the women's jail on Wednesday.
MORE ON:
Shawn Chapman Holley
Article continues below advertisement
"She can't accept gifts."
Still, it was the thought that counts — so kudos to you Jason.
Lohan, 24, is expected to be released by Sunday or Monday after serving two weeks of her 90-day sentence for violating probation in a DUI case.
Lohan is also coping with incarceration with the help of candy.
"She's eating some Twizzlers," Chapman Holley told PEOPLE.
"She looks gorgeous. … She's writing a lot. She's creating art. She's a beautiful, talented, creative woman and she's going to come out and surprise you all!"