PHOTOS: Kate Gosselin & Kids In Alaska Filming Kate Plus 8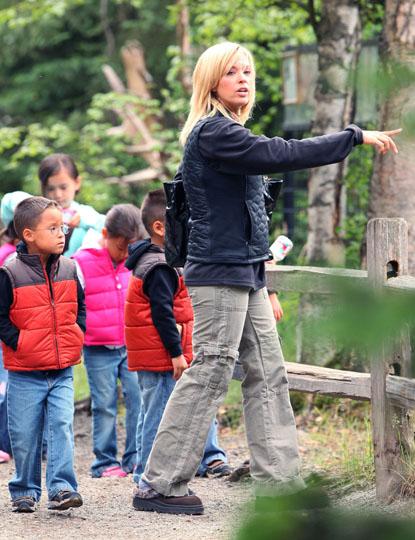 Watch-out Sarah Palin - there's a new star in town because Kate Gosselin has been spotted in Alaska, and RadarOnline.com has the photos.
The famous reality TV mom had gone AWOL in recent days sparking Internet rumors that she has had some plastic surgery and gone into hiding - a story first reported by Imperfect Women online.
Now RadarOnline.com has obtained brand new pictures of the mom-of-eight walking around Palin's home state.
Article continues below advertisement
On Wednesday, Kate and her kids visited the Alaskan Ivory Exchange where you can buy unusual collectible pieces of art ranging from antlers and authentic jewelry to walrus and whale carvings.
RadarOnline.com has learned Kate and her brood made the trip to America's largest state to film some footage for her Kate Plus 8 reality show for TLC.
While Kate and her kids where away, their stay-at-home dad Jon Gosselin Tweeted on his account: Just spoke with my kids. miss them a lot. Don't have custody this week or weekend so just plan to relax with @ellen_ross1
While Kate has not found any long-term boyfriend since she divorced Jon, he has enjoyed a series of affairs with younger women.
At, 23, his latest girlfriend Ellen Ross is 12 years younger than Kate and 33-year-old Jon seems pleased with his new catch.
He has introduced her to his kids and they all seemed to have a fun time as they have been photographed together doing various activities in Pennsylvania together.
Article continues below advertisement
The couple met at a blind date at a backyard barbeque and Ellen claims they are a 'regular couple' and 'have a lot in common'.
Despite rumors that Jon's new dragon tattoo was Ellen's idea, she set the record straight saying, "Those were some words taken out of context. The tattoo artist is my friend and has done work on me. I suggested when Jon wanted to get a tattoo that he go to my friend. That's how that came up.
"I'm completely happy with him, and I have no complaints and we always have a great time," Ellen, 23, told Pop On The Pop of her romance with Jon. "Everyone close to me has met Jon and everyone's supportive and totally understanding about everything."
Shockingly, Ellen says she wasn't a huge fan of Jon & Kate Plus 8 and rarely watched the show. "I would watch it occasionally if it was on. I wasn't into it at the time. I was always out."