Exclusive
PHOTOS: Best Or Bust? Plastic Surgeon To The Stars Dishes On Real Housewives Boob Jobs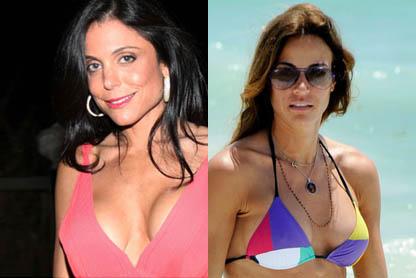 Not all of the Real Housewives are real.
From New Jersey to New York to Orange County, the Bravo hit reality TV series features plenty of drama - and plastic surgery. RadarOnline.com turned to Manhattan surgeon Dr. Michael Fiorillo, the doc who fixed Real Housewives of New Jersey star Danielle Staub's "uneven" boobs.
Listen! 'RHOP' star Wendy Osefo breaks down the "most intense fight in the show's history" in under 2 minutes.
Article continues below advertisement
It was Staub's fourth surgery on her breasts.
"She was extremely pleased with her surgery," Dr. Fiorillo told RadarOnline.com.
Mission accomplished.
Which had us wondering at RadarOnline.com if the good doc would deliver the good on his best-and-worst picks of reality television boob jobs.
"Sure," he tells us, from his Park Avenue, New York, surgery.
With that we had Dr. Fiorillo examine photos of four of our favorites -- Lynne Curtin, Kelly Bensimon, Teresa Giudice and Bethenny Frankel - and their revisions.
Dr. Fiorillo has not worked on any of the other women.
NEW PHOTOS: Heidi Montag New Plastic Look
Let's start with the doctor's room-for-improvement category.
Dr. Fiorillo says Lynne Curtin, of the Real Housewives of Orange County fame, "looks like she has saline implants placed over the muscle."
The doc thinks they aren't a good look for the OC Housewife. "They are a little too large for her body," Dr. Fiorillo told RadarOnline.com, and recommended a quick fix, "I would switch to silicone gel implants and put them under the muscle."
Article continues below advertisement
Real Housewives of New York City star Kelly Bensimon has become as well known for her botched plastic surgery as she is for her reality show.
When the 41-year-old posed for Playboy, it was clear Kelly's breast augmentation had finally yielded great results.
Or had it? "Kelly's implants seem to have separated and hardened and now they appear too far apart," dishes the doc.
"The pockets need to be closed down and I would use a high profile implant."
According to Dr. Fiorillo, women who want very large and protruding breasts, but have small and narrow chests, would benefit from high profile implants because they have a relatively small diameter.
But they have a much higher profile than standard implants.
So who has the best boob job?
Bensimon's New York arch rival Bethenny Frankel, and Danielle Staub's nemesis Teresa Giudice, according to Dr. Fiorillo.
Article continues below advertisement
"Bethenny looks great, they are symmetrical and I think the shape and size of her bust is perfect for her body type," he told RadarOnline.com.
Teresa Giudice's boob job was featured on the show last season and she affectionately named them her "Bubbies."
Dr. Fiorillo complimented her as well: "Teresa had extremely small breasts previously and I think her new implants are now proportionate and fit her frame. They are even and asymmetrical and seemingly natural compared to the other girls."
Dr. Fiorillo's award for best-breast-surgery is a tie between Bethenny and Teresa!