Phil Spector Blasts Cops As "Drunken Animals" In Bizarre Video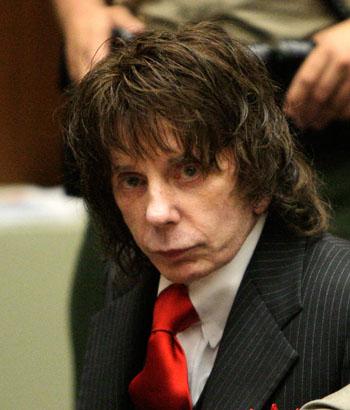 In two videotaped monologues that can only be described as bizarre one-man shows, Phil Spector is speaking out about what he says happened that night in 2003 when actress Lana Clarkson died in his home.
The tapes have been released by a woman named Michelle Blaine on her website Phil Spector's Wall of Guilt; a throw-away reference to Spector's legendary Wall of Sound-style of record producing during the 1960s and 1970s.
Article continues below advertisement
Blaine is identified on the site as Spector's former assistant.
Spector repeats the same story on each video, although he is dressed in a Hawaiian shirt in one and in a some sort of formal dinner jacket in the other.
PHOTO: Phil Spector's Mug Shot
In his 2005 recounting of what happened after the Alhambra, CA police arrived at his "castle," Spector refers to Clarkson as "the injured party" and the "dying woman." There's a passing reference to the "incident" which he describes as a self-inflicted. Only at the very end does he mention Clarkson by name.
MORE ON:
Celebrity Justice
Spector's point in making the tapes was to blast the Alhambra PD for how officers treated him. He calmly calls them "storm troopers" and "drunken animals." He claims he was tasered, and that his nose was broken and his spine "cracked."
Spector was twice tried for Clarkson's shooting death, which was ruled a homicide not suicide as Spector's defense team argued. The first ended in a mistrial.
He was convicted of second degree murder in 2009, and is serving a 19 years to life sentence.