Nicole Richie Is A Style Recycler!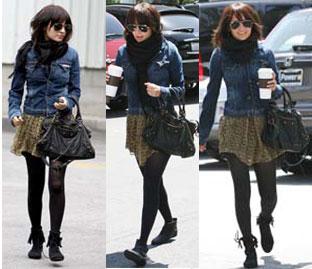 While most stars wouldn't be caught dead wearing the exact same outfit more than once, Nicole Richie has no problem wearing one three times! The fierce fashionista, who has been attending traffic school in Van Nuys for her 2006 DUI, has been spotted sporting the same duds to class, over a period of a few months.
On a gorgeous Wednesday afternoon, Nicole headed into the classroom dressed in the winter-worthy ensemble. Wearing the SAME Hudson denim jacket over the SAME floral skirt with the SAME tights and SAME Love Quotes scarf, carrying the SAME Balenciaga Motorcycle Bag, and blocking the rays in the SAME RayBan aviators, the pint-sized beauty was a walking fashion flashback! Only a week earlier she wore the identical ensemble, which she debuted a few months earlier in April.
Article continues below advertisement
With a closet full of clothes, we find it hard to believe that the reality show star-turned-designer can't find anything else to wear, but maybe, just maybe, stars really are just like us!