NEW VIDEO: Watch The Barefoot Bandit's Arrest!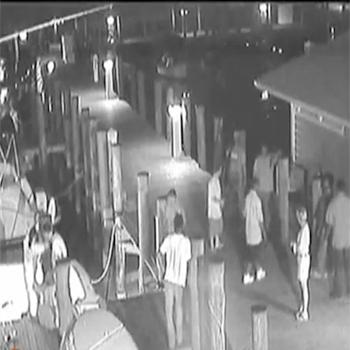 He fought the law, and the law won -- and now we get to watch how it all went down.
Watch the clip on RadarOnline.com
That's right, we're talking about a clip of Colton Harris-Moore -- better known as the "Barefoot Bandit" -- as he was brought into custody by local authorities in the Bahamas July 10, following a high-speed boat chase that turned into a footrace. The just-released video shows the arrest, which took place in Eleuthera, a small Bahamian island; it shows Harris-Moore literally running from the law -- in both directions -- before police brought him in.
Article continues below advertisement
The "Barefoot Bandit" Captured - Hollywood Lines Up To Make Movie About Teen Fugitive
Harris-Moore is accused of a two-year crime spree that consisted of more than 70 break-ins and plane and boat thefts in eight states, all centered around the Pacific Northwest. The 19-year-old Camano Island, Washington native racked up more than 89,000 Facebook friends on his alleged rogue adventures, getting tagged with the nickname as he reportedly committed many of the crimes he's accused of while barefoot.
Read Arrest Warrant And Court Documents
Harris-Moore, currently in custody in Seattle, waived his right to a preliminary hearing July 23, and is expected back in court after a grand jury indictment.
Stay with RadarOnline.com for updates on the case as they happen.