"My Name And Reputation Were Tarnished," Says Former Bachelorette Contestant Justin 'Rated-R' Rego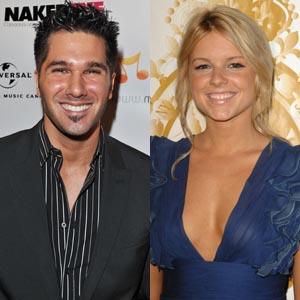 Bachelorette bad boy Justin 'Rated-R' Rego is lashing back after being bashed by both Ali Fedowtowsky and all his former contestants on ABC's Men Tell All special Monday night, for which he was a high-profile no-show.
The self-confessed villain fervently defended his name by posting his heartfelt feelings on his Facebook fan page on Tuesday.
"Last night as I sat at home and watched the (Men) Tell All special I couldn't help but feel sick to my stomach as I watched helplessly as my name and reputation were being tarnished," wrote Justin.
Article continues below advertisement
The entertainment wrestler was kicked off the show when it came to light that he had two girlfriends in his hometown of Toronto, Canada, and only went on the reality dating series for fame – not love.
"I was disappointed to see people I would call my friends speak about me in such a negative light. To be honest it hurts, especially when I have taken the time on multiple occasions to defend people like Jonathan (a.k.a. The Weatherman), Craig R, Kasey, Chris N, etc," he said.
Article continues below advertisement
EXCLUSIVE INTERVIEW: Bachelor Pad Reject Reveals Who's Hookin' Up
Before they taped the reunion episode on July 17, Justin says he found out from his "supporters" and later had it confirmed by producers that they were intending to ambush him.
"They were planning to bring Jessica and Kimberly to the taping of the "Men Tell All" to have an on air battle with me like Jake and Vienna did a couple of weeks back," he revealed. "After being told by Producers "don't worry Justin, I'm your friend, you should come do the Men Tell All," they once again proved that they will do anything to get ratings!"
"Although I chose not to go to the taping, I would have loved to have been there to see the guys again and share my side of the story!
"After seeing the powers of editing when I watched my departure from the show, I did not want to put my life in their hands once again," says Justin, who claims that he had already decided to skip the reunion.
"I find it difficult to believe that they want people to think that I am the one who wants fame and publicity, when I chose not to attend the Special," he concluded.