Music News: Two Musical Legends Collaborate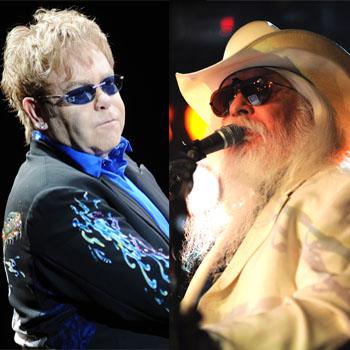 Elton John and Leon Russell have made a record together, called, appropriately, The Union, which will be available October 19 in the U.S.
Produced by Oscar and multiple-Grammy winning producer T Bone Burnett, who took home numerous awards in 2009 for his production work on Raising Sand with Robert Plant and Alison Krause, The Union features songs written by John and his lifelong lyricist Bernie Taupin.
Article continues below advertisement
Legend has it that Russell first met John in 1970 when he attended John's first ever U.S. show at the famous Troubadour in Los Angeles. "In the late '60s and early '70s, the one piano player and vocalist who influenced me more than anybody else was Leon Russell," John said. "He was my idol." The pair went on to tour together at New York's Fillmore East but had been out of touch for years.
After years of being out of touch, John listened to Russell's music while on safari in Africa last summer and was inspired to reconnect with his idol. "Elton called to ask if I would do a duet album with him,'" Russell said. "I'm very happy that he chose me to do this."
Recorded live in the studio with John and Russell on dueling pianos, the album features a variety of musical genres from R&B, soul, gospel, country, pop and rock. Icons Neil Young and Brian Wilson provide guest vocals on the 16-track record along with legendary R&B organist Booker T. Jones, steel guitarist Robert Randolph and a 10-piece gospel choir.
By Evan Hosie