Lindsay Lohan Missed NINE Court Ordered Alcohol Classes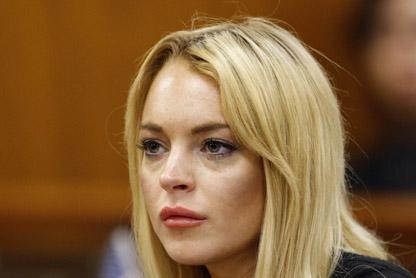 Lindsay Lohan missed nine of her mandatory court-ordered weekly alcohol classes, it emerged in court Tuesday.
And the troubled star apparently dished up a host of excuses for her absence.
"Sometimes it was work, sometimes it was a delayed appointment," the program's co-owner Cheryl Marshall said, when grilled on the witness stand.
"One time she missed for a random drug test."
It was also revealed that Lohan claimed she was stuck in North Carolina and couldn't get a flight home in time for another session.
Article continues below advertisement
But in a stunning admission, Marshall admitted the program never checked on the validity of her excuse and did not notify the court of Lohan's absences.
In an often tense morning, Marshall presented some potentially damaging testimony in the case, which could see Lohan sent to jail if it is found she violated her probation.
When deputy district attorney Danette Meyers established that Lohan had not attended the alcohol education class weekly at the end of 2009 – despite a phone call from the judge spelling out what was required – Marshall turned argumentative.
That prompted Judge Marsha Revel to snap at the witness about the order she gave Marshall regarding Lohan's terms: "Did you think I didn't mean it?"
The judge later asked Marshall the same question.
Marshall said she thought it would come in the form of a directive.
However, under heavy questioning by Meyers, Marshall did admit that she told Lohan the judge had given her "enhanced terms" and "her attendance was required on a weekly basis."
Article continues below advertisement
Right On employee Beryl Washington also took the stand.
Washington, an office manager for the program, admitted that the judge had told her Lohan needed to attend weekly meetings.
Earlier in the hearing, Lohan dodged a potentially damaging piece of evidence being used against her when the judge in her probation violation case ruled that Lohan's SCRAM violation would not be considered as part of the hearing.
RadarOnline.com was in the Beverly Hills courtroom when Judge Revel made the surprise ruling, revealing that the SCRAM device showed Lohan's blood alcohol level at more than .03 shortly before midnight on June 7.
It eventually dropped to zero and Lohan had a private urine test much later showing it at zero.
The judge decided not to consider any of that and to go only with the report from Lohan's alcohol education classes.
Article continues below advertisement
On a side note, the judge turned down a request by Lohan's father Michael to speak to her in the chambers.
Deputy district attorney Meyers told the judge early Tuesday that Lohan consumed alcohol – and she can prove it.
That was part of the morning battle that ended with Judge Revel ruling out evidence related to the SCRAM bracelet.
Meyers won an important battle early though, when the Judge Revel ruled that the prosecution should have access to the documents from Lohan's alcohol education class.
The Right On Program had refused to turn them over despite a subpoena.