Lindsay Lohan -- Justice For All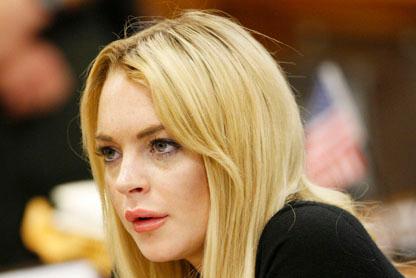 Just one day after Lindsay Lohan was sentenced to serve 90 days in a downtown Los Angeles prison, the distraught actress went on a bizarre Twitter rampage about fair sentencing and the need for justice for all.
"It is clearly stated in Article 5 of the U.N. Universal Declaration of Human Rights that no one shall be subjected to torture or to cruel, inhuman or degrading treatment or punishment," Lohan wrote.
Article continues below advertisement
The Georgia Rules actress posted a link to an article titled, "Iranian Woman Faces Stoning For Adultery," and asked followers to retweet.
Lohan also quotes an article by Erik Luna saying, "November 1 marked the 15th anniversary of the U.S. Sentencing Guidelines. But there were no celebrations, parades, or other festivities in honor of this punishment scheme created by Congress and the U.S. Sentencing Commission.
"Instead, the day passed like most others during the last 15 years: Scores of federal defendants sentenced under a constitutionally perverted system that saps moral judgment through its mechanical rules."
There were a slew of supportive responses but one follower was less sympathetic, telling Lindsay, "Sorry ♥ but u did the crime n now u should do the time....just like the rest of those whom choose 2 break the law!"
On a lighter note, Lohan responded to criticism about her "F*CK U" manicure in court on Tuesday, tweeting: "Didn't we do our nails as a joke with our friend dc? it had nothing to do w/court.. it's an airbrush design from a stencil xx"
Twitter is just one of the many obsessions that the Mean Girls star is going to have to give up when she goes to jail on July 20th.