Kendra: 'Pamela Anderson Inspired Me To Get My Dream Boobs'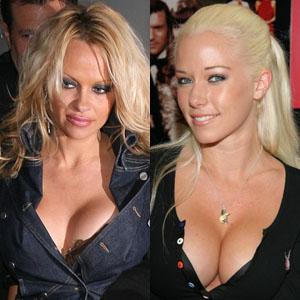 From drugs, alcohol and losing her virginity at age 13, to stripping at 18, it was the bigger the better for The Girls Next Door star Kendra Wilkinson, and she applied the same standard to her chest.
In her new memoir, Sliding Into Home, released this past Tuesday, Kendra reveals her larger-than-life attitude was inspired by another buxom blonde - Pamela Anderson, RadarOnline.com can reveal.
Kendra thought bigger breasts would mean a fatter wallet during her pole dancing days in San Diego.
Article continues below advertisement
"I thought of an idea of how I could make business even better: bigger boobs!" she wrote in the tell-all. "Pamela Anderson was on the radio talking about saving animals or something, and all I could think about were her boobs... I thought, I'd do even better if I were bigger... and I felt like they would make my look and feel even sexier."
The Baywatch star's voice was all the push Kendra needed to go from a small B to a full C—and she did her homework to get her "dream boobs."
"Just hearing Pam's voice was inspiration enough," wrote Kendra, who took home a whopping $2,000 on her first night working at Cheetah's strip club in San Diego.
"The next time I was at the club I really studied the girls' breasts. I found the ones I liked the best and asked the owner of those perfect boobs for the number of her plastic surgeon... I went up to L.A. for a consultation.
"Then I went back to San Diego, worked for two straight nights to collect my boob money, went back to L.A., and had them done."
And the rest is Playboy history.