Heather Graham Is Pretty In Hot Pink Bikini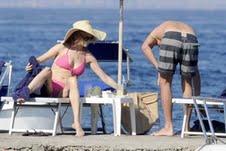 Heather Graham got boyfriend Yaniv Raz's heart racing when she wore a bright pink bikini when the two hit the beach Sunday.
The couple is vacationing on the exotic volcanic island of Ischia off the coast of italy.
Heather, who will probably always be best known for her turn in Austin Powers: The Spy Who Shagged Me, will next be seen in the historical drama, Georgia, along side Val Kilmer and Andy Garcia.
Article continues below advertisement