Former Roseanne Star Sara Gilbert Comes Out Of The Closet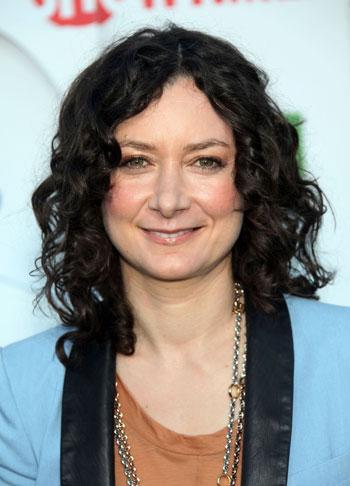 The news that witty TV star Sara Gilbert came out of the closet and revealed that she's gay was delivered by the actress herself on Wednesday in Hollywood.
During the Television Critics Association press conference for her new show, The Talk, the actress was asked if she thought it would be easy to be out on the women's talk show, according to Entertainment Weekly. "This is a whole new world for me," Sara said.
Article continues below advertisement
She later added, "I'm not an expert on this, or I don't analyze these things. I'm just sort of living my life. I plan to put my heart and soul into this show, and I plan to continue acting, and I don't think it will be a problem."
Gilbert expanded on being out. "I don't ever really think of things as out or in. I just think I am who I am, and when topics come up that are appropriate, I'll talk about them and share when it seems right."
Sara will be joining other Hollywood moms Julie Chen, Leah Remini, Holly Robinson Peete, Sharon Osbourne and Marissa Jaret Winokur for the daily talk show.
"I've been acting my whole life, and I've never really discussed my personal life," revealed Gilbert, who starred as Darlene on the blue collar hit sitcom Roseanne as a teenager. "I'm going to be discussing my life more," she said, when explaining why her girlfriend Allison Adler was not mentioned in the CBS press release about the show's stars and their spouses. Gilbert and Adler have been together since 2002 and have two children. Allison gave birth to their son Levi, 5, and Sara gave birth to their daughter Sawyer, 2.
Lesbian Lover On 'Real Housewife' Kim Zolciak: 'The Truth Will Come Out'
"I felt that the first place I wanted to do it wasn't in a CBS press release. It just seemed impersonal, and I felt like I'd rather come in person and talk to you about all that stuff here."